Molded mica paper capacitors are mica paper windings that are in a void free assembly capable of withstanding more severe environments than the "Wrap and Fill" package. Depending on the electrical, mechanical and environmental requirements, various epoxies are available to meet individual applications. Molded capacitors can be designed in nearly any practical shape. Used for applications where various mounting configurations are required. A wide variety of terminations including but not limited to wire leads, threaded inserts and studs, turret terminals, machined brass are available.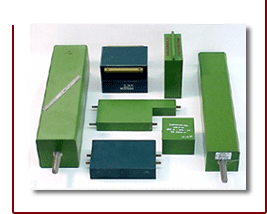 Molded Capacitor
Potted capacitors are winding assemblies that are placed in a potting case or shell and filled with an epoxy or silicone resin. The potting case becomes a permanent component of the capacitor assembly. Potted units are generally limited to cylindrical and box shapes.

Both molded and potted capacitors are ideal where multiple components such as resistors, diodes, etc. are required.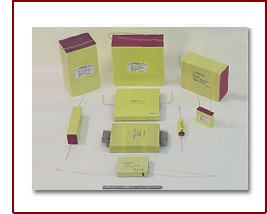 Potted Capacitor